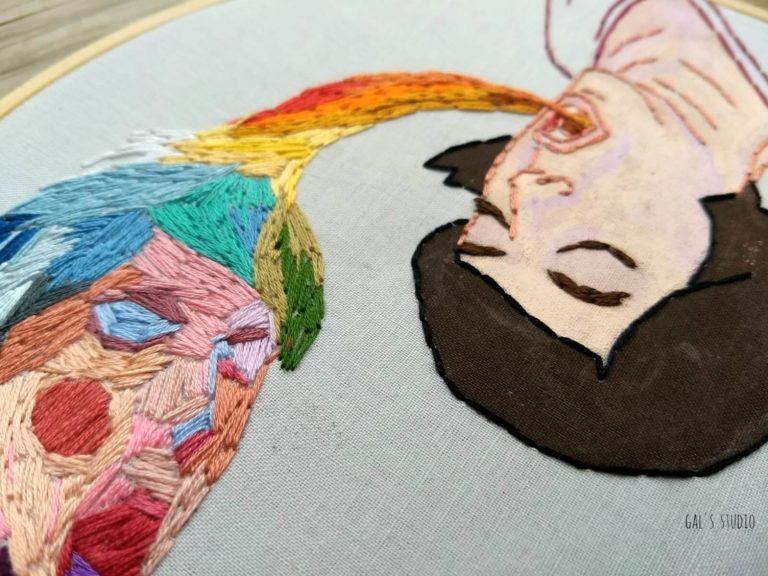 My Studio​
Gal's studio is my home studio, were I create and teach and mostly have lots of fun exploring new ideas, media and materials. Come check what's new...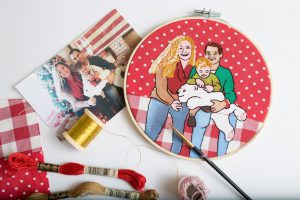 One of a kind personalized gift you can see here. You're welcome to contact me and order your love one a creative and unique photo embroidery hoop.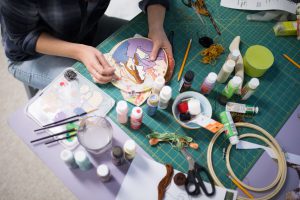 I love having people (all ages are welcome here!) for craft workshops, My studio is equipped to host up to 10 creative guests, we have working space and so much materials to work our imagination on. The workshop that are currently happening are painting, embroidering, artist inspiring work and quilting 1:1.
Gal took an incredibly special photo and turned it into a stunning piece of art that I will cherish forever. She took so many details and came up with a beautiful design to honor my grandparents. She provides not only superior customer service, but she also gains your trust very early on that whatever you give her – she will handle with the utmost care and put love into her work as she creates your pieces. There aren't many people like Gal in this world, I couldn't be more thankful to have found her shop and see her talents. Her pieces spoke to me and I knew she was the perfect person to take on my projects, that started as one and ended up being three! I can't thank her enough and everyone should have a piece made by Gal.
Rhi Annon on Jan 30, 2019
5 out of 5 stars    
Ms. Amir is a brilliant educator. She went above and beyond in the adult education course she taught on Feminist Jewish Art and Artists, exposing students to artists and their ideas, visual commentary, and stimulating deep discussion amongst the students. She is skilled in making high concepts accessible to a group of diverse adult learners.
Rabbi Tracy Nathan
Senior Educator and Director of Melton, Center for Jewish Learning
Had an amazing time in the workshop this Friday, loved the studio, the art we created and learned a whole lot! Gal is a gifted, creative teacher and artist. Can't wait for the next workshop and for my new project to be completed! I highly recommend participating in Gal's workshops and ordering what I can only call – Gal's work of art – for your house!!
Adi Finberg on Nov 19, 2017
I am so impressed by how this came out. It is stunningly gorgeous and Gal made sure to keep in touch with me to make sure it came out exactly as I wanted. I can't recommend Gal enough. The care she put into the piece was matched by her incredible customer service. Like the stereotypical guy that I am, I ordered my fiancé's birthday gift at the last minute and Gal made sure she completed my order right away and I got my piece with plenty of time before her birthday. If you're on the fence, ORDER FROM GAL. You will not regret it!
Kevin Murphy on Jun 5, 2018
5 out of 5 stars