Easter is a holiday I couldn't quite figure out yet… I will be the first to admit that I love the spring themed colors, the searching of the eggs, and, well, everything visual about it!  But when I wanted to jump in (or hop?) and create my version of art for the occasion it wasn't so easy. I tried to search for an image of bunnies I could relate to, and the only one I had in my mind all the way was Albrecht Durer's "Young Hare":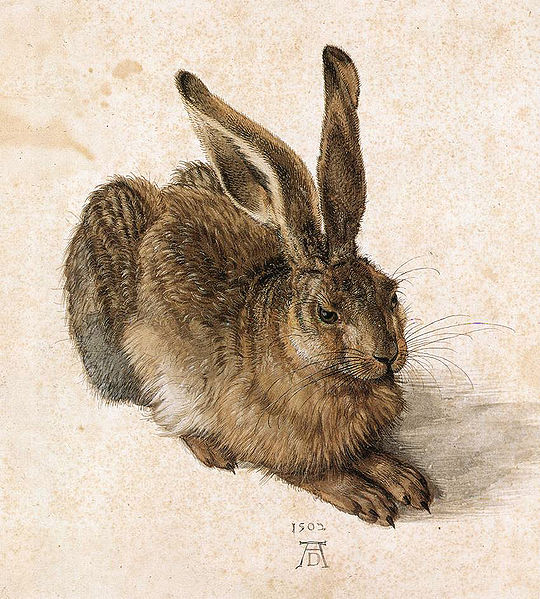 That's a serious Hare.
When I was teaching my favorite course of art history, I have always loved the lesson where the students saw Durer's works, usually for the first time. Seeing the reaction of people to his drawing and magnificent printing… I was so happy to introduce them with his work which I admire. This drawing symbolize to me the hard study and work a Renaissance men (and a few women) had to accomplish.  Durer was a German artist, he traveled around northern Europe, studied, explored and created some of the most breath taking pieces of art from the Renaissance to my opinion. He painted the young hare (although he's not looking that young..) in the 1500s, with watercolors, and in 2018… I added embroidery garland to liven it up and get this hare ready for Easter (-: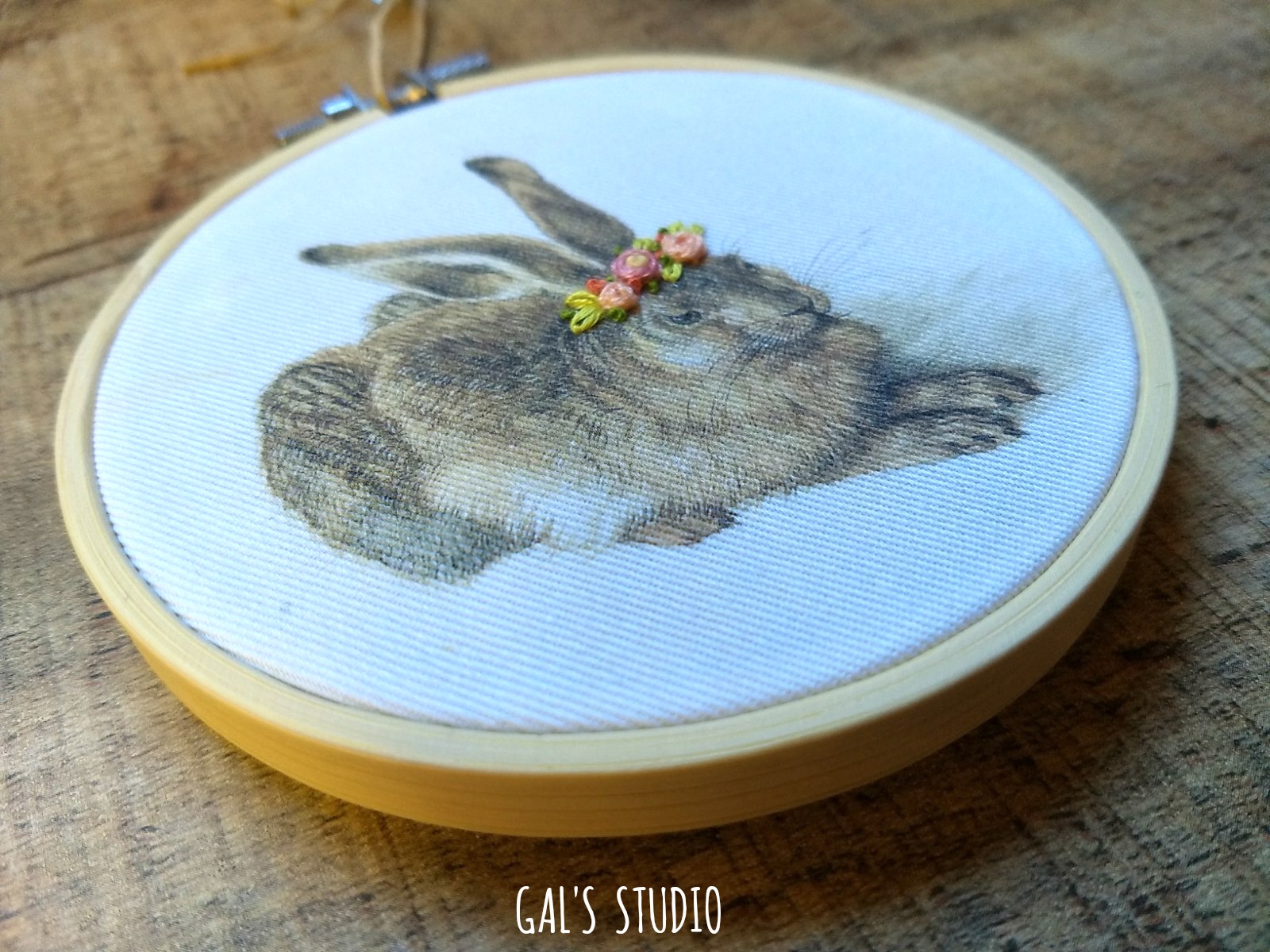 Not sure he would have approved this work, actually I'm sure he would find it insulting… But personally I feel like I'm introducing him again. The art hang in our kids room and nurseries is something they see every single day. It should tell a story and offer the possibility of more thinking and acquiring knowledge, don't you agree? It may be just a "bunny" today, but at some point this bunny would raise a question… And moms and dads can tell where it came from and who originally draw it and Voilà! The bunny will become a young hare.
That is how I imagine it in my mind anyway (-:
Durer's Hare is a timeless work of art and one of Durer's most famous work, so for me to print it onto fabric and embroidery the flowers crown – well, it took some "guts" but I do believe there will be some kiddos who would love him like that!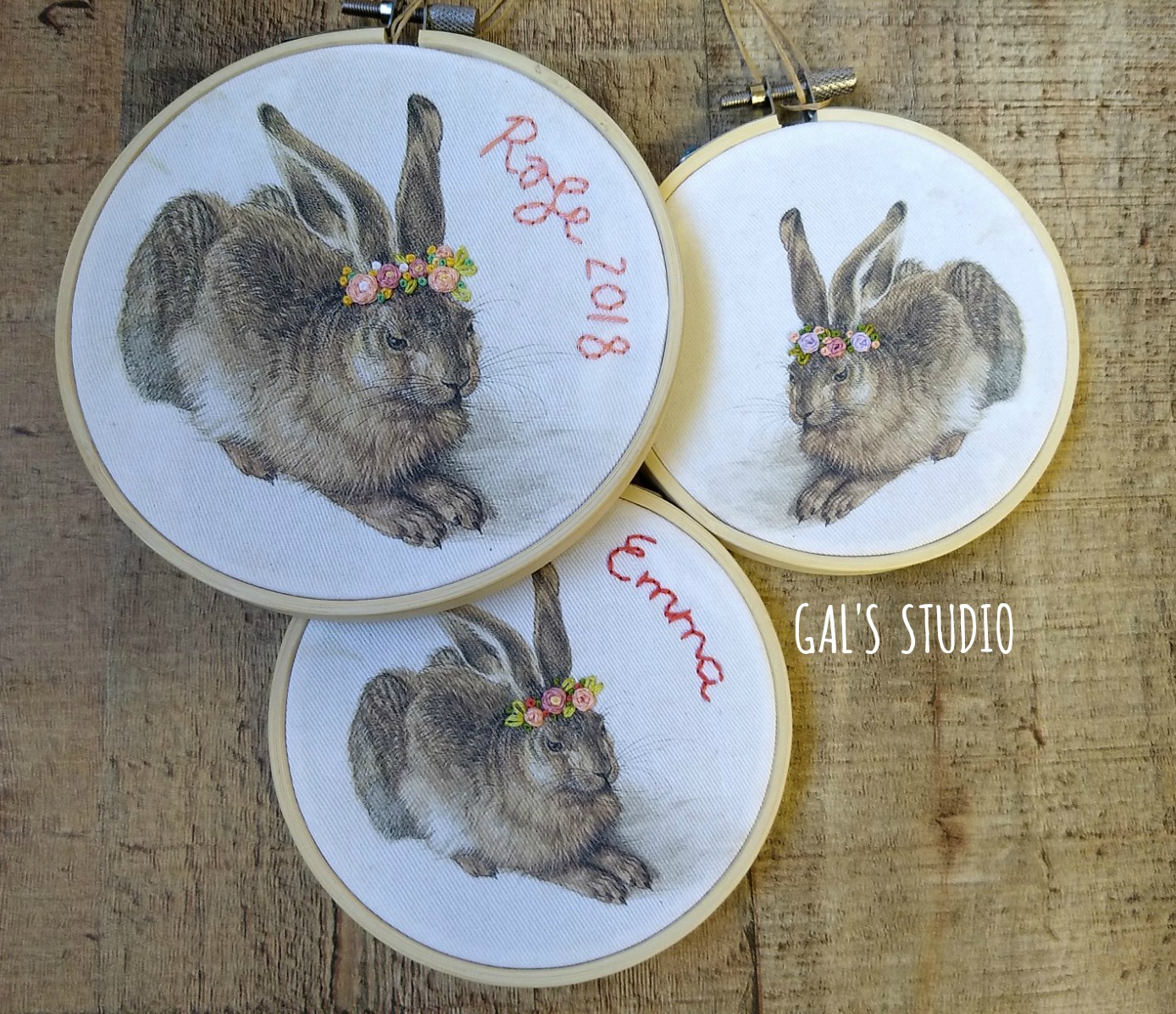 I did end up making another version of my Easter bunny, but that's for another post…
Happy Easter!
Gal.
* These Hoops are all in my
Etsy